St. Joseph's College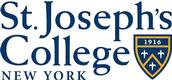 | | |
| --- | --- |
| General Information | 718-940-5800 |
| Type | Private not-for-profit, 4-year or above |
| Awards Offered | Less than one year certificate, Bachelor's degree, Postbaccalaureate certificate, Master's degree |
| Campus Setting | City, Large |
| Campus Housing | No |
| Student Population | 5,144 (3,983 undergraduate) |
| Student-to-Faculty Ratio | 12 to 1 |
St. Joseph's College
Brooklyn
Mission Statement
Brooklyn Phone: 718-940-5800
Patchogue, Long Island Phone: 631-687-4500
SJC Online: 631-687-4501
The qualities that have made your military service successful — integrity, competence, determination and discipline — make you an ideal candidate to succeed in college. Now is the perfect time to make the most of your talents, advance your career and prepare for your future by completing a degree or certificate program at St. Joseph's College.
BRINGING AN AWARD-WINNING EDUCATION TO YOU
SJC offers convenience along with a private education that U.S. News & World Report has ranked among the best in the New York Metropolitan area for the past decade. You can take courses where it best suits you: Online, at our campuses in Brooklyn and on Long Island, or at a military installation—Fort Hamilton in Brooklyn, Fort Wadsworth on Staten Island, the Jones Beach Coast Guard Station in Freeport, SFO Moriches in East Moriches and the Shinnecock Coast Guard Station in Hampton Bays.
St. Joseph's College (SJC) has been named among Military Times' Best for Vets: Colleges 2020. SJC earned the #29 spot on the 2020 list for its attention to military and veteran students; retention and graduation rates; benefits offered and accreditation.
SJC has been awarded the 2020-2021 Military Friendly "Gold" Award. Of the New York institutes that received a Military Friendly designation, SJC is only one of three that received the GOLD designation and the only private institution in NY that received the GOLD designation.
USE YOUR BENEFITS
If you are, or have been, part of the Army, Navy, Marines, Air Force or Coast Guard, your benefits can help you earn a private college degree at St. Joseph's College at little or no cost to you. SJC offers a special tuition rate of $250 per credit for service members (active duty, guard and reserve) enrolled for up to 10 credits. This amount is covered by Tuition Assistance (TA).
SJC is a proud participant in the Post-9/11 GI Bill Yellow Ribbon Program.
STUDENT VETERANS OF AMERICA (SVA)
SVA is a vibrant student-lead organization that aims to promote an understanding of veterans and their vastly unique experiences, as well as the issues they face upon returning home. Veteran and non-veteran students and faculty are invited to join our ranks and help build our club, hold events, and raise funds for charity.
Special Learning Opportunities
Religious Affiliation
Study abroad
Weekend/evening college
Teacher certification
Not applicable
Student Services
Undergraduates registered as students with disabilities
Remedial service
Academic/career counseling service
Employment services for students
Not applicable
Credit Accepted
Dual credit
Credit for life experiences
Advanced placement credits
Faculty and Graduate Assistants
Full-time
Part-time
Total Faculty
161
436
Instructional
161
436
Research and Public Service
0
0
Total Graduate Assistants
-
0
Instructional
-
0
Research and Public Service
-
0