McDaniel College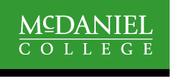 | | |
| --- | --- |
| General Information | 410-848-7000 |
| Type | Private not-for-profit, 4-year or above |
| Awards Offered | Bachelor's degree, Postbaccalaureate certificate, Master's degree |
| Campus Setting | Suburb, Small |
| Campus Housing | Yes |
| Student Population | 3,570 (1,597 undergraduate) |
| Student-to-Faculty Ratio | 12 to 1 |
Mission Statement
McDaniel College is a diverse student-centered community committed to excellence in the liberal arts & sciences and professional studies. With careful mentoring and attention to the individual, McDaniel changes lives. We challenge students to develop their unique potentials with reason, imagination, and human concern. Through flexible academic programs, collaborative and experiential learning, and global engagement, McDaniel prepares students for successful lives of leadership, service, and social responsibility.
McDaniel College was founded in 1867 as the first co-ed college just south of the Mason-Dixon line. Our motto, E Tenebris in Lucem Voco, means "I call you out of darkness into light."
In 2002, the College changed names from Western Maryland College to McDaniel College in honor of alumnus and professor emeritus William Roberts McDaniel, class of 1880.
McDaniel College believes that liberally educated men and women think and act critically, creatively, and humanely.
Special Learning Opportunities
Religious Affiliation
ROTC (Army)
Study abroad
Teacher certification
Not applicable
Student Services
Undergraduates registered as students with disabilities
Remedial service
Academic/career counseling service
Employment services for students
12%
Credit Accepted
Dual credit
Credit for life experiences
Advanced placement credits
Faculty and Graduate Assistants
Full-time
Part-time
Total Faculty
127
240
Instructional
127
240
Research and Public Service
0
0
Total Graduate Assistants
-
0
Instructional
-
0
Research and Public Service
-
0