Endicott College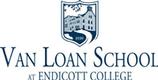 | | |
| --- | --- |
| General Information | 978-927-0585 |
| Type | Private not-for-profit, 4-year or above |
| Awards Offered | Less than one year certificate, Associate's degree, Bachelor's degree, Postbaccalaureate certificate, Doctor's degree - research/scholarship, Master's degree |
| Campus Setting | Suburb, Large |
| Campus Housing | Yes |
| Student Population | 4,125 (3,181 undergraduate) |
| Student-to-Faculty Ratio | 17 to 1 |
Mission Statement
The Van Loan School at Endicott proudly welcomes active and retired members of the military. Here, you'll find a community and a sense of pride in your service, from staff who are well versed in G.I. benefits to faculty who are eager to hear your perspective and ready to see you succeed.
Endicott College is pleased to announce extended resources for veterans with approval as a new chapter for the Student Veterans of America, a non-profit dedicated to helping veterans navigate and succeed in college.
The Student Veterans of America (SVA) is a 501(c)(3) non-profit coalition of more than 1,400 student veteran chapters, representing over 540,000 veterans in higher education, across the country. The organization's mission is to help veterans integrate and become engaged with college life. Specifically, SVA provides access to resources, support, and advocacy through a vast network of peers who have been in their situation and are eager help them succeed.
The College is strongly committed to meeting the needs of veterans, many of whom juggle deployments, families and jobs. Endicott College has 158 enrolled military students, 19 in the undergraduate day school and 139 at the Van Loan School.
"Veterans make up an important and respected part of our student body, and we want to do all that we can to help ensure they get a valuable and worthwhile education," said Dr. Richard Wylie, President of Endicott College. "They come to us with completely different life experiences from most college students, either trying to relearn the rules of civilian life or taking classes between patrols and duty schedules. With tools like those SVA offers, we can help ensure our Endicott veterans get the most out of their time here."
Beyond the new designation as an SVA School, Endicott is also a Yellow Ribbon School, and offers a three credit course on transitioning military skills to academic leadership as well as other support services that help soldiers transition to students, including the Veterans Integration to Academic Leadership (VITAL) Program.
The mission of Endicott College is to instill in students an understanding of and an appreciation for professional and liberal studies. Deeply woven within this philosophy is the concept of applied learning- which has been the hallmark of Endicott. Linking classroom and off-campus work experience through required internships remains the most distinguishing feature of the College. Endicott has a vision for the total development of the individual within a community that fosters an appreciation of diversity- international awareness- community service- and moral and ethical values. Endicott is an innovative and vibrant- student-centered institution that supports undergraduate and graduate students in their pursuit of knowledge. Common threads run through the fabric of the Endicott experience: increased self-confidence- stronger professional skills and technological competencies- and perhaps the most valued of all- lives open to change.
Special Learning Opportunities
Religious Affiliation
ROTC (Army)
Study abroad
Weekend/evening college
Teacher certification
Not applicable
Student Services
Undergraduates registered as students with disabilities
Academic/career counseling service
Employment services for students
Placement services for completers
10%
Credit Accepted
Credit for life experiences
Advanced placement credits
Faculty and Graduate Assistants
Full-time
Part-time
Total Faculty
82
167
Instructional
82
167
Research and Public Service
0
0
Total Graduate Assistants
-
0
Instructional
-
0
Research and Public Service
-
0